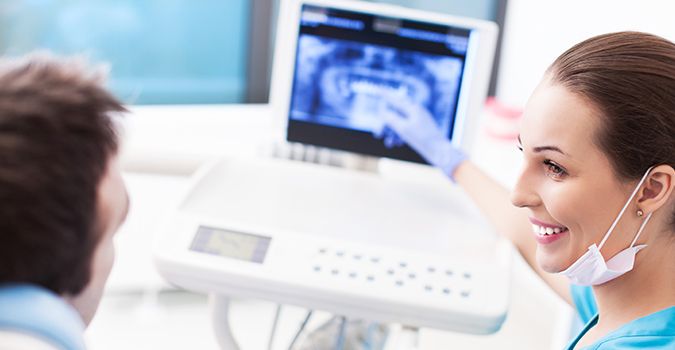 Dr. Shankland and team believe in a conservative, wholesome approach to dentistry. One advantage of receiving care through the TMJ & Facial Pain center are our digital x-ray imaging systems. Sometimes called radiographs, these images provide valuable information to the doctor and team about your health. Compared to old style film x-rays digital dental x-rays have up to ninety percent radiation than the older film style of x-rays. Even every day objects we use, like our cell phones, can emit more radiation than a full series of digital dental x-rays.
Another benefit of digital radiographs is their high resolution. These images provide a larger, and clearer image than the old film version. This can allow our team to catch dental problems that could otherwise be missed on a film image. In addition, we have different styles of digital radiographs, such as the unique tomograph scan that shows the temporomandibular joint clearly.
Dr. Shankland and the team of the TMJ & Facial Pain center believe in taking radiographs based on each individual patient's need, not merely on a generic schedule. Overall, x-rays are the only way to evaluate for cavities between the teeth where the naked eye cannot see. X-rays are the only way to fully assess the health of the bones of the jaw. Problems like early cysts or tumors of the bone can have no symptoms while growing and causing damage. So assessment of radiographs regularly by your dental professional is key in preventing major problems long-term.
Have a concern you believe our digital x-rays could shed light on? Ask about it at your next visit. Call 614-794-0033 to schedule today!